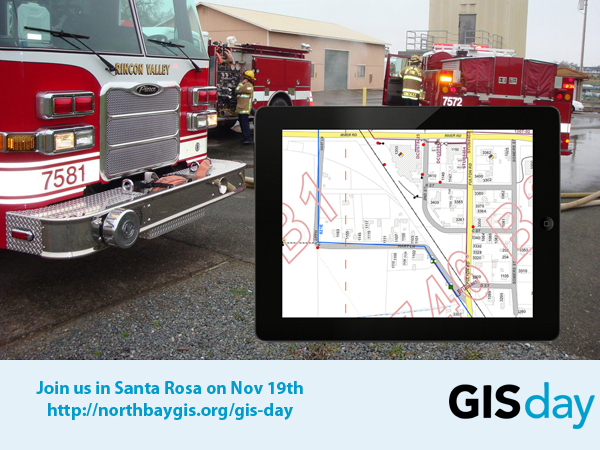 It's a GIANT world...
Congratulations to John Karcher for winning the "It's a GIANT world..." t-shirt by Griffin Map Design.
Please continue to spread the word about GIS Day and register if you have not done so yet.
*Registration is not required to attend this event, but it does help us make this the best event possible.
---
Cadastral Mapping Technician (Extra-Hire)
The County of Marin has an opportunity for an extra-hire Cadastral Mapping Technician to assist with performing cadastral mapping work, drafting of maps for assessment purposes and providing mapping customer service at the public counters and via phone and email. The ideal candidate possesses experience with Autocad and graphics editing, and has familiarity with surveying, California Real Estate Law, and Marin County geography and land use. The ideal candidate also has the ability to provide excellent customer service and work well independently. Please see the Cadastral Mapping Technician class specification which includes the required minimum qualifications.
For specific information on the Marin County Assessor-Recorder-County Clerk's Office, please visit the departmental page. If you wish to be considered for this extra-hire opportunity, please send your resume to Phyllis Gray at .