Register Today for April 22 User Group Meeting
Join us on Wednesday, April 22nd at our next user group meeting. The April meeting will build off of the March FOSS4G NA, Esri Developer Summit, and FME World Tour and focus on developer tools, tips and tricks, and new technology.
Current Presentations
TileStache and other Open Source projects (Julio Manuel Alegria, AmigoCloud)
A Developing Perspective on GIS (Roy Jackson, GeoComm)
The latest from the ESRI Developer Summit (Tim McGee, MoosePoint Technology)
---

Come join us for our second ever Mappy Hour!
Join fellow GIS and Mapping folks as we get together for a good time... and talk maps. Drinks and snacks will be provided. We are limited to 30 people so get your free ticket today!
Hillary Gattian will talk about her art that is currently on display at Griffin Map Design and other pieces she has created. You can view her work at http://hillarygattian.com. Make sure to view her Ceramics works on her site.
Mappy Hour is at Griffin Map Design in Petaluma on Wednesday, April 29th from 6-8PM.
For additional information go to http://www.griffinmapdesign.com/events.
---
GIS Training Opportunities - Hopland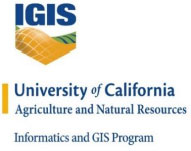 The University of California – Division of Agriculture and Natural Resources will be holding two introductory courses in GIS and WEBGIS at the Hopland Research and Extension Center on May 7th and 8th.
Geographic Information Systems (GIS) for Agriculture: Rangeland Focus Workshop
Thursday, May 7th, 2015, 11am to 4pm
Rangeland Workshop Flyer
WebGIS Workshop: Creating your own Web Maps
Friday, May 8th, 2015, 8am to 12pm
WebGIS Workshop Flyer
Both workshops will be at the Hopland Research and Extension Center at 4070 University Road, Hopland, CA.