---
Each year the North Bay GIS User Group hosts a GIS Day event. This FREE event is open to the public and showcases how GIS is being used in your community and at local schools.
Each year we host classes from local schools. Each class is at the event for two hours and learns about GIS and maps through the following activities:
---
College Map Contest
We are proud to announce the return of our annual GIS Day student map contest sponsored by the Sonoma County Water Agency.
The top three maps as voted on by a panel of GIS Professionals will receive scholarship money from the Sonoma County Water Agency.
Enter for a chance to win up to $300, show off your GIS skills, and build your resume.
Map Contest Rules
Student must be currently enrolled in a college or technical school within the San Francisco North Bay Region (Marin, Mendocino, Napa, Solano, or Sonoma Counties)
One map entry per student
Map size not to exceed 36" by 44"
The maps will be judged on content, creativity, visual design, and degree of analytical difficulty.
Map content is not limited to a specific theme or topic to allow each entrant the flexibility to create their own unique map.
Entry deadline is November 10, 2016
A minimum of 10 entries must have been submitted by 11/4 or the scholarship money will not be made available.
Submit your map by delivering them to either:
Sonoma County Water Agency
C/O Courtney Ellerbusch
404 Aviation Boulevard, Santa Rosa, CA 95403
or
Sonoma Ecology Center (Map Here).
If you have any questions please email This email address is being protected from spambots. You need JavaScript enabled to view it..
Go to http://scwa.ca.gov to find out more about the SCWA.
---
Educational Resources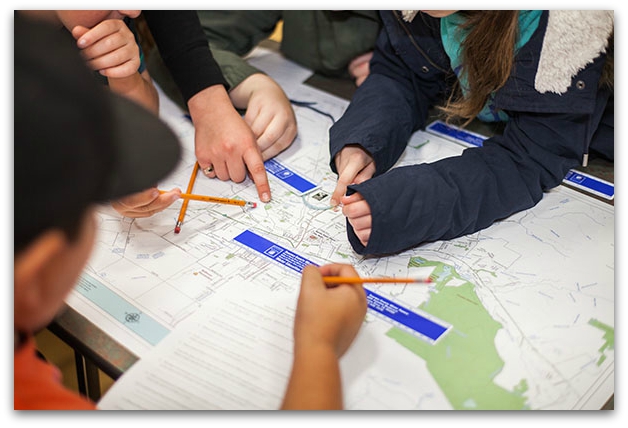 ---
GIS Day Sponsors
Thank you to the following sponsors, without their support GIS Day 2016 would not be possible.
If your company would like to join with us as a sponsor and help share GIS to the North Bay community please contact This email address is being protected from spambots. You need JavaScript enabled to view it..